If you're interested in how to live a more sustainable, eco-friendly life but don't know where to begin – this is the blog post for you! These 10 simple habits will help you drastically reduce your footprint and live a happier, healthier, more harmonious life.

Research one area at a time
It's easy to get overwhelmed and confused by conflicting opinions when you first start out. People who've successfully managed to adopt eco-friendly habits long term did it at a pace that worked well for them. Focus on improving and reforming one area of your life at a time. Ask yourself, what area do I feel inspired to work on now? If you're reading this blog post, you've probably seen something that you'd like to emulate. For me, I was most interested in making my shopping more eco-friendly so I focused on learning about capsule wardrobes and decided to ditch fast fashion. Perhaps you'd prefer to start in the kitchen, or the laundry, or the grocery store. Follow where inspiration is leading you!
Fill your feeds with inspiration
You know the quote, 'you're the average of the five people spend the most time with'? Apply this idea to your news-feeds. You're more likely to be successful at any goal if you make a point of filling your mind with positive ideas and inspiration. Unfollow or mute anyone that brings you down, and make room for the people, companies and organisations who are actively sharing content that inspires and empowers you to become more eco-friendly.
Eat more plants
Animal agriculture is one of the biggest polluters on the planet, so reducing the amount of animal products you eat dramatically reduces your water and carbon footprint. The best part about making your diet more plant-based is that you'll enjoy so many other benefits. Not only will you be doing what's best for the environment, you'll also be reducing animal suffering and providing your body with more essential nutrients. Here are some ideas of meaningful changes, so pick the ones that feel achievable to you.
Choose the veggie option when you're out

Make all your breakfasts vegan

Follow vegan recipe channels like Avant Garde Vegan, Pick Up Limes or BOSH

Invest in some great vegan cookbooks

Eat vegan at least one day of the week

Try a vegan subscription box to get accustomed to trying vegan options
P.S. In Chapter 3 of my book, Lessons From Veganism I discuss how in transitioning to a plant-based diet healed my relationship with food. You can read that chapter here for free.
Tackle takeout
While we're still thinking about food, let's talk about take-aways. This can be really challenging because some eateries go way overboard when it comes to plastic; plastic utensils, plastic straws, plastic cups, plastic bags, plastic containers – it's a mess! The good news is, you can still enjoy takeout while staying sustainable. Here's what the experts do:
Research and get to know your area

. Most of us have regular eateries we like to eat from, so get in touch with your favorites and talk to them about being more eco-friendly. Ask them if you can bring your own reusable containers, or if they can use compostable containers instead of plastic.

Invest in reusables.

Bring your own bag, metal straws, utensils and cups so you can ask staff to skip all the extra plastic bits and pieces they normally add in.

Eat in when you can if plastic waste is unavoidable.

If you're travelling or in a tight spot, eating in will usually be a much more sustainable option. 
Invest in reusables and phase out single use items
If you follow step 2, you'll probably see lots of exciting reusable options being used and recommended in your feed. These simple swaps are a quick and easy way to live a more eco-friendly lifestyle as the single use plastics we use daily make up the bulk of our overall consumption. Here are some great single use alternatives:
Note: The team at EarthHero, the best sustainable living marketplace have kindly given me this 10% off discount code to share with you: HANNAHA10
Create a zero-waste handbag kit to keep in your bag
What do you have a habit of using while you're out? Creating your own zero-waste handbag kit is the great way to reduce the plastic waste you create in your daily life. Options you might want to consider include:
Gift experiences over stuff
Have you ever received a gift that you didn't really want or need? In today's world gifts are often surplus items that just become clutter. Eco-friendly folks have found a brilliant way around this by gifting experiences instead of stuff. 
Purchasing an experience for a loved one, or sharing an experience together is so much more meaningful than gifting an object. That experience creates special memories that can be cherished for years to come. Gifting an experience could be as simple as ordering a voucher for a local spa or going to an evening barista course together. 
My personal favorite way to give gifts is with Tinggly. Tinggly is a global gifting solution and they offer thousands of experiences in over 100 countries. There's no expiration, a lifetime refund policy and they're even planet positive! Their gift boxes are divided into different sections, for example 'Happy Birthday', 'Bucket list', 'Rainbow Wedding', '2 Day Getaway', 'EuroTrip', 'Perfect for Him' and more! Check it out for yourself here. 
Use what you already have
The most sustainable consumer decision you can make is to use what you have. That's why you'll eco-living influencers recommending capsule wardrobes and DIY garment upcycling. Having a capsule wardrobe is a great sustainable choice because it enables you to really make the most of everything you own. And if you have some sewing skills or access to a tailor, upcycling or reworking older garments are a fantastic way to breathe new life into clothing you don't get a lot of wear out of. For example:
This idea doesn't only apply to fashion either. You can apply it in every area of your life, like using up the food that's leftover in your fridge instead of buying something new and throwing it out.
Look for pre-loved first
If you've seen any of my vegan thrift shopper travel guides, you'll know that I love a good thrift store find. Instead of immediately going to the store to buy a new product when you need something (and can't upcycle), make a habit of looking at preloved options first. You'll be amazed by how many treasures can be found, and how much money you can save with a bit of extra effort, patience and savvy sewing. Not only is it good for the planet and for your wallet, it'll also ensure that you end up with a unique collection of items that aren't cookie-cutter variations of what everyone else has.
Support conscious companies
Your consumer purchasing power makes a significant difference in the world. Supporting ethical, conscious companies who give back, pay fair wages, reduce waste and provide quality products is a matter of putting your money where your mouth is. Here's a list of my personal favorite brands:
New Wash
New Wash is a revolutionary product that does the job of not only a shampoo and conditioner, but also of masks. If decluttering your beauty routine and switching to the swiss army knife of hair care interests you, give it a try 
Essentially, the parabens and sulfates in shampoo are harsh detergents that strip away your hair's natural moisture and so a conditioner is needed to rehydrate your locks. New Wash is made from natural, cruelty free ingredients like aloe vera leaf juice, jojoba oil and peppermint.
New Wash cleans hair with a proprietary blend of essential oils and naturally-derived saturated cleansers. Detergent-free, sulfate-free, paraben-free, synthetic fragrance-free. Plus, they do not test on animals. They also strive to reduce waste. If you love New Wash, please join the New Wash Club to receive a reusable aluminum bottle and their refill pouches. Help reduce plastic waste!
I personally use the Original New Wash, but recommend taking their quiz to find out which product is best for you.
Take the New Wash quiz here.
Earthlove Subscription Box
A fantastic way to discover eco-conscious lifestyle goods and support environmental conservation! All of their goodies are environmentally and ethically responsible, including zero waste packaging, natural ingredients, organic and non-GMO, gluten-free, beegan/vegan, and fair-trade. Get $5 off with the code LOVETHEEARTH here.
Last Object
A Danish company dedicated to reducing plastic pollution with their innovative reusable q-tips, called LastSwab and their reusable tissue pack, which is coming soon. You can use my code AHIMSA10 to get 10% off.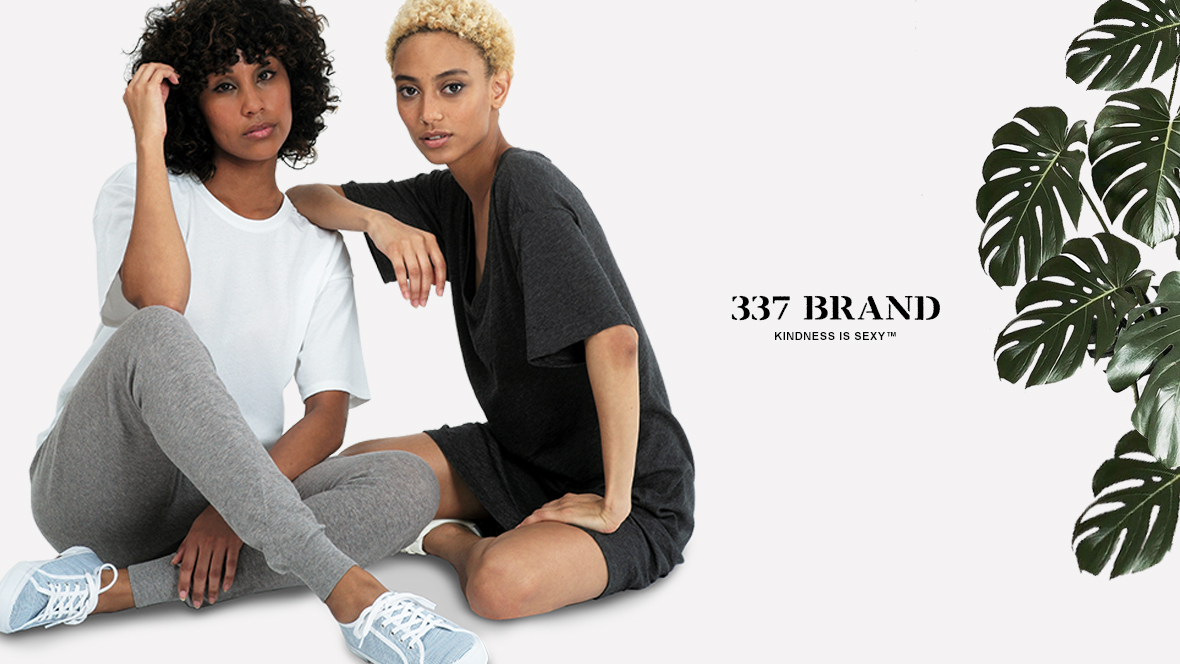 337 Brand
A sustainable leisurewear brand with super cute and comfortable tees, sweatshirts, dresses and more. For every order they plant a tree in collaboration with One Tree Planted. Use the code WELCOME15 to get 15% off your first order.
In Conclusion
I really hope this blog post has helped you and given you some direction in how you can live a more eco-friendly life. Let me know in the comments what sustainable swaps you've been making, I'd love to hear from you!
More Healthy Habits
My FREE ebook Refresh is a collection of eight healthy habits that I've picked up along my journey. Don't worry, they're not the usual ones you've heard before – we all know we should drink more water. Instead, these habits are lesser known and have seriously improved my life.
They've helped me reduce stress, be more productive and improve my mood.
Interested? Click Here To Get Refresh!
Did you find this blog post useful? Consider saving THIS PIN to an eco-living board on Pinterest so others can find it too.