Giving an ethical gift is a great opportunity to share earth-friendly products and experiences with your loved ones. Birthdays, anniversaries, Christmas, Mother's Day and Father's Day are all opportunities to impress your loved ones with the variety of exciting new and eco-friendly goodies. If you're struggling to find something that makes you, your loved ones and the planet happy – these 10 eco-friendly gift ideas are sure to inspire you!
This post contains affiliate links. I earn commissions if you shop through the links on this page, at no extra cost to you. See my full affiliate disclosure here for more info.
Give experiences, not stuff: Tinggly
I mentioned Tinggly in my Father's Day post because they make experiencing the world accessible and sustainable, two things that often don't go hand in hand. I've personally been to their headquarters in Vilnius, Lithuania and met their lovely staff. Their ethos of giving experiences, not stuff is a fantastic solution to the issue of making gift-giving sustainable. Let's take a closer look at their 'Happy Birthday' gift box.
You can send it instantly via email or have it delivered in a beautiful box in 2-5 business days.
The lucky recipient gets access to 400+ experiences for 1-2 people in 100+ countries.
Booking is super simple! They just visit the Tinggly redeem page, select the date, the experience, and wait for the confirmation via email. All experience details will be there.
There's no expiry date.
All of their gift boxes are produced from fully recycled materials and are printed using eco-friendly inks. Plus, for every gift experience – even a couple of laps in a high-performance sports car – Tinggly will offset CO2 carbon emissions by a whopping 200% and remove 33lbs (15kg) of plastics from the earth's waterways.
Check out their entire collection here. 
New Wash
New Wash is a revolutionary product that does the job of not only a shampoo and conditioner, but also of masks. If decluttering your beauty routine and switching to the swiss army knife of hair care interests you, give it a try 
Essentially, the parabens and sulfates in shampoo are harsh detergents that strip away your hair's natural moisture and so a conditioner is needed to rehydrate your locks. New Wash is made from natural, cruelty free ingredients like aloe vera leaf juice, jojoba oil and peppermint.
New Wash cleans hair with a proprietary blend of essential oils and naturally-derived saturated cleansers. Detergent-free, sulfate-free, paraben-free, synthetic fragrance-free. Plus, they do not test on animals. They also strive to reduce waste. If you love New Wash, please join the New Wash Club to receive a reusable aluminum bottle and their refill pouches. Help reduce plastic waste!
I personally use the Original New Wash, but recommend taking their quiz to find out which product is best for you.
Take the New Wash quiz here.
Beautiful, eco-friendly personal care: Meow Meow Tweet
I simply adore the ethos behind Meow Meow Tweet. They define themselves as a personal care brand, rather than a beauty brand because they don't believe in the beauty standards set by the industry. See quote below 🙂
Beauty standards are still defined by big business, consumerism, ad dollars, youth, whiteness, thinness… that isn't most of us. We don't call ourselves a beauty brand because we aren't one. We prefer, personal care. At the end of the day whether you're going to bed after barely wiping off your makeup or sweeping a fragrant serum over your cheekbones with a jade roller, you're doing the same thing. Taking care of you! – Meow Meow Tweet 
They also donate at least 1% of their profits to charities that work to improve the earth, social justice issues and animal rights. Their products are all-natural, vegan and low waste.
Now, let's get to the nitty gritty of why Meow Meow Tweet products make great gifts! They smell amazing, they're versatile, high quality, easy to use and beautifully designed. Great gift ideas include their: Coconut Cacao Body Soap or their Lavender Deodorant.
An ethical monthly subscription box: Earthlove
If you couldn't tell from my recent post, 10 Self-Care Subscription Boxes to Boost Your Wellness, I love subscription boxes. I love them for myself and I love gifting them!
Earthlove is a quarterly subscription box that's packed with 6-8 full-sized eco-friendly goodies, and a book filled with eco-friendly tips and wisdom. The box value is always $120+ and you can expect it to include a diverse range of beauty products, apparel and accessories, home decor, aromatherapy, teas, snacks and more. Each box supports environmental non-profits and companies that are responsible, zero-waste and organic. You can choose between the beegan and vegan options.
Check out Earthlove here. 
The amazon of conscious goods: Detox Market
The Detox Market is basically a one stop shop when it comes to clean beauty, and ethical wellness products. They receive thousands of submissions from brands every year and have a stringent testing process where less than 2% make it onto their storefront. So, as a consumer when you shop on the Detox Market you have peace of mind that the products you're considering are the best in their category, are free from anything on their Banned Ingredients List, and are made by ethical entrepreneurs and companies.
They make ethical gift giving easy thanks to their gift cards, that as they say, is guaranteed to please even the most discerning loved ones. I recommend Glow Inner Beauty Powder from the Beauty Chef, Coco Rose Body Polish from Herbivore, and the Sustainability Set.
Gorgeous wellness planners: Silk + Sonder
If your loved ones are all about self-care and wellness, look no further than the gorgeous wellness planners from Silk and Sonder. They are a female-founded company that offers a guided self-care and mental wellness planners for busy, modern women. Their planners combine the therapeutic power of pen to paper with proven mental health techniques like bullet journaling, positive psychology and a supportive community. I love that you start fresh every month with a new planner that's focused on furthering your journey towards better mental health. They make for an affordable gift as a 1 month subscription is just $19.95. If you're feeling extra generous, here's an overview of all their subscription options:
Fairtrade salt lamps and organic beauty products: SoWell
If you're looking for the perfect home decor gift, check out these beautiful salt lamps from So Well. I recommend So Well over other retailers of Himalayan salt lamps because of their dedication to fair-trade and sustainability. You might be wondering what fair-trade actually means in this circumstance, and you can read about this in more in depth here.
The Himalayan mountain range encompasses a long area, from Pakistan to China. At the frontiers of the mountain range, the pink Himalayan salt is often mined unethically—using child labor, or extremely low wages, often in appallingly unsafe or unsanitary working conditions. In areas like these, human life is cheap, and we at So Well refuse to believe that one can put any price on a human life.
When you buy from So Well, you can rest assured that you're supporting authentic artisans and you're getting a product that is made with care and consideration for the environment, and everyone in the supply chain.
They also have an impressive range of high quality lamps, including grey and white raw salt lamps, which are often quite difficult to find online.
Check out So Well here.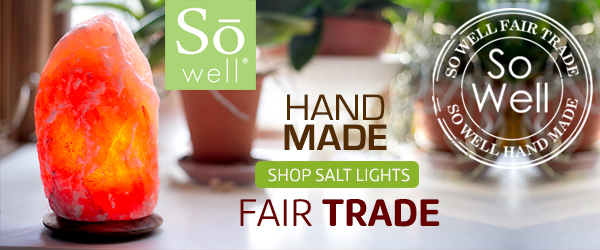 Amazing leaf leather and eco-friendly essentials: Tree Tribe
If you've heard of cork as an alternative to leather, let me introduce you to leaf leather! The leaves are sustainably harvested from Teak leaves and then sealed with a non-toxic film that helps to preserves it's beauty and ensure it's durability. One of the best things about leaf leather is that it feels stronger than other leather alternatives I've tried. Also, each products looks totally unique because each leaf is slightly different.
The company behind this innovative leather alternative, Tree Tribe is a nature inspired lifestyle brand that gives back to the Earth by planting a tree for every sale. At the time of writing, they've already planted over 400,000 trees worldwide!
I think their beautiful leaf leather make great ethical gifts because they're beautiful, sustainable and very interesting. Tree Tribe also have stainless steel waterbottles and organic, upcycled clothing and accessories.
Check out Tree Tribe here. 
Super chic zero-waste phone cases: Pela Case
Pela makes the world's first 100% compostable phone case and other earth-friendly accessories. Their mission is to reduce the amount of plastic on the planet, and they are doing an amazing job. I love their beautiful boho designs and bright colors. You can search their phone cases by phone type here. They also now have eco-friendly airpod cases, apple watch bands, screen protectors, card holders and guides to positivity. If you think your friend or loved one would love a pela case, but aren't exactly sure which one they'd like, check out their gift cards here.
You can use the code PELAFRIEND15 to get 15% off, and click the image below to get 2 for 1!
Check out Pela here. 
The ethical choice for bookworms: BetterWorld Books
BetterWorld Books is the socially conscious consumer's bookstore of choice. This is because they sell used books in great condition, fund literacy, care for the environment, and retail their books at a fair price. They offer great rates because they keep all their almost 3 million books in their Indiana warehouse. They have the lowest shipping rates, with free shipping in the USA, and $3.97 shipping worldwide.
Check out BetterWorld Books here. 
LESSONS FROM VEGANISM
Are you interested in learning more about veganism? I wrote extensively about how veganism healed my relationship with food in Chapter 3 of my book, Lessons From Veganism. I've decided to give this chapter away for free because I want it to reach as many people as possible. I'd love to share more about this journey with you.
Simply click here or the image above, and you'll be on my Freebies page. There you'll find Chapter 3, as well as my two self-care e-books, Revamp and Refresh. You can click any of the buttons on that page, fill in your details and check the boxes of the freebies you'd like in the form provided. Then, you'll receive an email from me with your download link within five minutes.
Thank You!
Thanks for reading my ethical gift guide, I hope you it helped you! What gift idea interested you the most? Let me know in the comments!
Want to save this post for later? Save this pin to your gift ideas board on Pinterest