Winter is almost around the corner. If you want to upgrade your natural skin care routine, you've come to the right place! My skin becomes very dry yet blemish-prone during winter, so keep on reading to find out about my favorite natural skin care products for winter. Here are the five I swear by, so check them out and enjoy!
This post contains affiliate links. I earn commissions if you shop through the links on this page at no extra cost to you. See my full affiliate disclosure here for more info.
OSEA Ocean Cleanser
The first product I love to use during the winter months is the Ocean Cleanser by OSEA Malibu. OSEA is one of the best natural skin care companies on the market! This amazing product is everything your skin needs on a cold morning. It is pH balanced and formulated with a plant-based probiotic, which makes it more than perfect for every skin type – including people with sensitive skin. This cleanser also contains vegan lactic acid, an ingredient known for making the skin super radiant and clear. 
All you need to do is to apply Ocean Cleanser to damp skin and rinse it off with lukewarm water. I often recommend OSEA Skincare to my friends and family, because they have this great quiz that helps to identify your skin type and tailor a skin care routine to you specific needs. 
Vanity Planet Spin Brush
The next step in my natural skin care routine in winter is exfoliating. It's extremely important as my skin tends to get quite dry during the winter months, which results in a dull and flaky appearance. To prevent that, I love to exfoliate my skin at least twice a week. 
The product I swear by is called Spin for Perfect Skin and it's a 360°-rotating face and body brush. Apart from getting rid of the dead skin cells, this product also removes bacteria and reduces pore size to make the skin look much clearer, brighter, and smoother. Of course, it's water-resistant, too, which means that you can use it in the bath and shower. 
This versatile brush comes with four different attachments, and I'm sure you'll find use for all four of them like I have. It's you take a look at Vanity Planet's reviews, you'll find that this brush is loved and heralded by thousands of people all over the world. 
I also love how this brush prepares my skin for the next step – a face mask!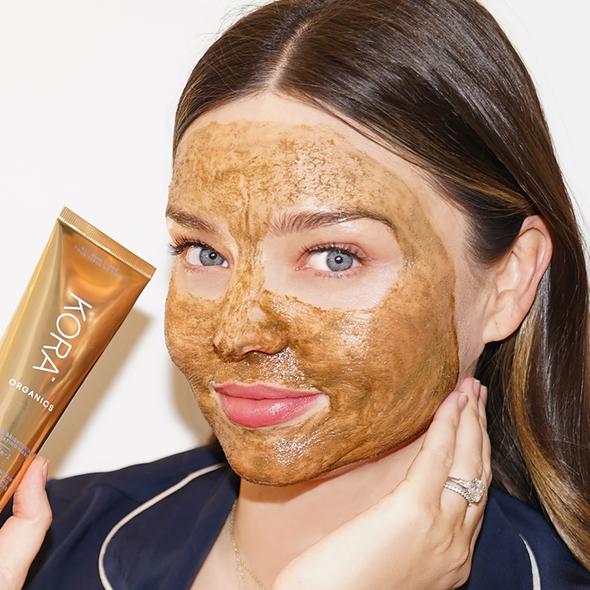 Kora Organics Turmeric Brightening & Exfoliating Mask
Once my skin is fully exfoliated and prepped, I can move to one of my favorite self care activities – a face mask. My current favorite is Turmeric Brightening & Exfoliating Mask by Kora Organics. Did you know that turmeric is packed with antioxidants? It's one of the best natural ingredients for skin care because it has anti-inflammatory properties. 
This mask is INCREDIBLE during cold winter months – it polishes the skin, cleans out the pores, brightens, calms, and even protects against environmental aging! Sometimes I use it as a scrub to unclog my pores. When I want my skin to be super smooth and radiant, I use it as a leave-on mask. Some people call this product an at-home instant facial, and you know what? I completely agree with them. This mask truly is something special!
Blissoma Smooth A+ Correcting Serum
This serum is the next essential in my winter skin care routine.The Smooth – A+ Correcting Serum by Blissoma skin care has been my number one serum for a while now, and I really love it because of its amazing ingredients. It features over 13 organic herbs such as coriander, fennel, goldenrod, olive leaf, and licorice that were freshly extracted at potent concentrations. 
Apart from keeping my skin clear and blemish-free, I love this serum because it calms down irritation and redness after procedures like non-surgical eyelid lift and similar laser treatments. My skin requires extra love and care after such a treatment, so I carry my beloved serum wherever I go. You should do the same, too!
Hum Nutrition Glow Sweet Glow vegan gummies for skin hydration
Last but certainly not least, there is Glow Sweet Glow by Hum Nutrition. These are vegan gummies for skin hydration and I find them absolutely delicious. All you need to do is to take two gummies every day, with or without food, for improved hydration and plumpness. 
These vegan gummies are packed with vitamin C and hyaluronic acid, which is why they can stimulate collagen production and result in a rejuvenated appearance. Did you know that hyaluronic acid is a compound we already have in our bodies? It locks moisture into the skin and makes it much plumper and more luminous. If you ask me, that's exactly what every girl with dry skin needs during winter!
I'm not the only who swears by these vegan gummies, check out Hum Nutrition's reviews here.
Conclusion
As you can see, each of these five natural products deserves its place in my natural skin care routine for the winter time. I hope this article helps you find YOUR best natural skin care routine for winter. 
More Healthy Habits
My FREE ebook Refresh is a collection of eight healthy habits that I've picked up along my journey. Don't worry, they're not the usual ones you've heard before – we all know we should drink more water. Instead, these habits are lesser known and have seriously improved my life.
They've helped me reduce stress, be more productive and improve my mood. 
Interested? Yes I Want Refresh!
Want to save this to read later? Save THIS PIN to your skin care board on Pinterest.
all natural skin care
,
best natural skin care
,
best natural skin care routine
,
blissoma
,
blissoma skin care
,
hum nutrition glow sweet glow
,
hum nutrition reviews
,
kora
,
kora organics
,
kora organics turmeric brightening & exfoliating mask
,
natural black skin care products
,
natural ingredients for skin care
,
natural skin care
,
natural skin care products
,
natural skin care routine
,
osea
,
osea malibu
,
osea ocean cleanser
,
osea skincare
,
vanity planet
,
vanity planet reviews
,
vanity planet spin brush