Do you think making sustainable swaps is expensive and inconvenient? When you make an effort to reduce your footprint the adage reduce, reuse and recycle will come to mind. Of all those three the most important is 'reuse'. The best thing you can do for the environment is swap the products you use that are disposable, for reusable ones. This will not only dramatically reduce your footprint, and make the products you use recyclable, but it will also save you money. I know you love a win-win 😉 Here are 10 of the easiest sustainable swaps:
This post contains affiliate links. That means if you buy something, I may earn a small commission at no extra cost to you. If you do click and buy, thank you. See my full affiliate disclosure here for more info.
Upgrade Your Grocery Bags
Opting out of plastic bags at the grocery store is fast becoming the norm as more and more stores begin to charge for them, or ban them. Part of the reason for this is the fact that single use plastic grocery bags are not recyclable. If you feel a niggling sense of guilt when you do your grocery shop and end up with a wad of plastic bags, there's an easy solution. Arming yourself with reusable grocery bags is one of the best and easiest sustainable swaps you can make, and you may find that you end up using them more than you'd expect. This rePETe Shopping Bag packs down to a teeny pocket that you can take everywhere, and these Cotton Mesh Reusable Produce Bags are indispensable and will last you years.
Note: The team at EarthHero, the best sustainable living marketplace have kindly given me this 10% off discount code to share with you: HANNAHA10
Try Zero-Waste Shampoo Options
Switching to a sulfate-free shampoo and conditioner can totally transform your hair from dry and damaged to healthy, smooth and shiny. One of the best sulfate-free hair care brands is Viori, and their products also happen to be zero waste. Viori's shampoo and conditioner bars are vegan, plastic free, non-toxic and ethically sourced. They donate 5% of their profits back to the remote Red Yao community in China who have been using Longsheng rice in their hair care culture and rituals to give their women long, glossy, jet black hair even into their seventies.
Their Citrus Yao Shampoo and Conditioner Bars are best for normal to oily hair; whereas their Hidden Waterfall and Terrace Garden Shampoo and Conditioner bars are best for dry to normal hair. Plus, their bamboo holders are an easy and eco-friendly way to store the bars. Check out Viori here.
If switching to shampoo and conditioner bars isn't right for you, consider New Wash or find a refillable option like Plaine Product's Refillable Vegan Shampoo and Conditioner Set. New Wash is a revolutionary hair-care product that replaces the need for multiple hair-care products. No more post-shower, leave-in, spray-on or comb-thru nonsense! Plus, if you try New Wash, love it and join their refill club you save 15%! Take their quiz here to see if New Wash is right for you.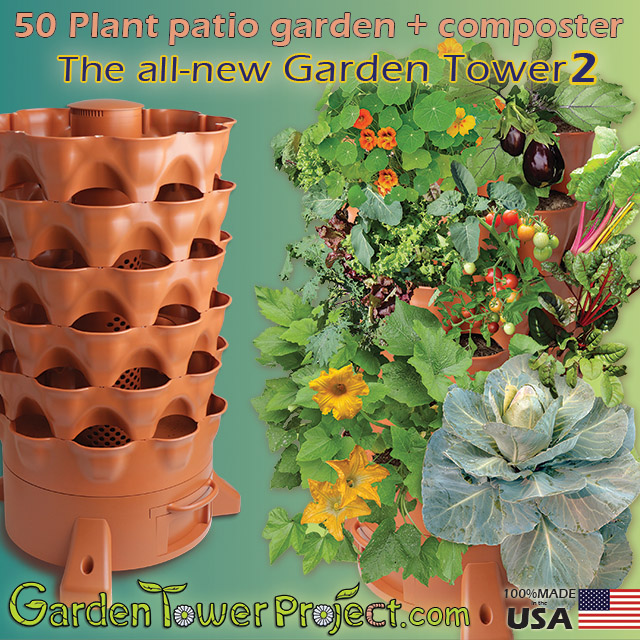 Grow A Garden At Home
Organic produce is expensive, but not when you can grow it at home. One investment in a Garden Tower will save you money at the grocery store, give you food security and reduce your footprint through less plastic waste. Garden Towers turn your kitchen scraps into organic fertilizer that grows free organic produce. This quick 3 minute video shows you how it works. It's made from non-toxic materials and grows 50 different plants in only 4 square feet of space. It's super easy to use, can rotate 360 degrees and has a removable compost drawer. Plus, you get a 5 year warranty, top notch customer service and tons of helpful information.
Check out the Garden Tower Project here.
Switch To Reusable Water Bottles
Did you know that roughly 2,480,000 tons of plastic bottles and other containers are put into landfill every year? Ultimately, using bottled water costs you, as there's around a 280,000% markup on bottled water compared to tap water. There are so many different reusable water bottles to choose from, but naturally, it's best if you opt for a bottle made from stainless steel instead of plastic.
Hydro Flask is my all time favorite brand because their quality is unparalleled. I've used my Hydro Flask every single day for the past 3 years! It keeps my cool drinks cool and my hot drinks hot. It's super easy to clean and looks chic. Plus I love that you can design your own bottle.
Put a Lid on Food Waste 
I love Food Huggers, because they save space in the fridge and give you an innovative solution to partially used fruits and vegetables. They're dishwasher safe, come with a lifetime guarantee and help you reduce your food waste, which means more cash in your pocket. This is one of easiest sustainable swaps you can make because they replace single use plastic wrap, and help your food stay fresher for longer than in a tupperware.
Check out Food Huggers here.
P.S. Their avocado food huggers are life-changing 😉
Switch Up Your Q-Tips 
Another super easy sustainable swap is to get your hands on a LastSwab. It's the world's first (and best) reusable q tip. If you use q tips daily, you can make a hugely positive impact by switching to LastSwab's basic (for cleaning) and beauty (for makeup application) cotton swab alternatives. They're durable, flexible, non-toxic, easy to clean and come in their own carry cases.
Check out LastSwab here.
Switch To A Bamboo Toothbrush
Billions of plastic toothbrushes end up in landfill every year. Bamboo is biodegradable, fast growing and quickly replenished. It takes a lot less water to grow bamboo than almost all other wood types. When you get a new plastic toothbrush every month or two, that waste really adds up over time. The bamboo toothbrushes I use are actually cheaper than the plastic ones I used to buy. An easy win-win 🙂
Start Cooking Plant-Based Recipes
I've been plant-based for a decade, and vegan for six years. Part of the reason for this lifestyle choice is the significant impact my food choices have on the planet at large. In fact, a study from the University of Oxford found that cutting meat and dairy products from your diet can reduce your carbon footprint by as much as 73%! If you're interested in learning more about veganism, check out A Guide to Vegan Nutrition: How To Get All The Nutrients You Need.
There are thousands of amazing vegan recipes available for free on the internet. I use them almost everyday! However, if you love a good cookbook look no further than Lucy Watson's amazing Feed Me Vegan. It's packed with easy, delicious and hearty vegan recipes that will blow your mind and make eating vegan a joy.
Switch To A Sustainable Deodorant
An easy sustainable swap is switching to a plastic free deodorant. The struggle is real when it comes to natural deodorants that actually work, but don't worry I've got your back! Meow Meow Tweet's deodorant are all natural, smell amazing and come in biodegradable packaging. Their two scents, Lavendar Bergamot and Eucalyptus Lemon, both smell divine and work very well. I recommend ordering the sample sizes of both to try it out.
They also have three baking soda free deodorant sticks, which are: Grapefruit (pictured above), Rose Geranium and Cedar Spruce.
Meow Meow Tweet is a great company to support, as they donate at least 1% of their profits to charities that tackle social justice issues. Their products are all-natural, vegan and eco-friendly. One of the aspects of their business model that makes them truly sustainable is their awesome refill program, which you can learn about here.
Keep A Utensil Set In Your Handbag
Rounding out my top 10 easy sustainable swaps is a simple utensil kit. I prefer this bamboo set over metal simply because I prefer eating with bamboo, and because I've had metal utensils that were audible when they moved around in my bag. Keeping a zero-waste utensil set like this in your bag is a great way to avoid wasteful plastic cutlery. This lightweight, durable set contains a knife, spoon, fork, chopsticks and you can opt to add in a straw and brush for a complete set. Shop it here.
Remember: If you do shop at EarthHero, feel free to use my discount code to save yourself 10% on your purchase: HANNAHA10
Thank You!
I hope this post inspired you to make some awesome sustainable swaps that will not only reduce your footprint, but improve your life. What sustainable swaps have you made? If you're feeling overwhelmed, check out the 10 habits of eco-friendly people to get started 🙂
Want to save this post to read later? Save THIS PIN to your eco-friendly living board on Pinterest
earth friendly swaps
,
easy sustainable swaps
,
eco-friendly
,
healthy habits
,
inspiration
,
lifestyle
,
motivation
,
sustainable food swaps
,
sustainable hacks
,
sustainable swaps
,
sustainable swaps for home
,
sustainable switches to make
,
tips and advice
,
zero waste products
,
zero waste swaps
,
zero waste swaps for beginners