Are you wondering how to increase energy levels? With all that you have going on, from work challenges, to personal relationships, it can get very difficult to optimize your nutrition with food alone. Add the upcoming holidays into the mix and sticking to your healthy habits can get even more complicated even for the greatest health enthusiasts. The changing seasons, less sunlight, and social distancing combined might just be the worst possible situation for our immune systems. Thankfully, there are specific energy supplements that can come to the rescue.
However, instead of buying the first thing that comes to mind, it pays to do some research. Invest in specific supplements that can elevate your energy production, keep you healthy, and help you stay vital all year long.
Immunity-empowering greens
The buzzword "superfood" has become so omnipresent in the health and fitness industry. Many rightfully wonder how we can distinguish between actual superfoods and overly enthusiastic descriptions attached to random ingredients. True superfoods such as spirulina, aloe vera, garlic, and chlorella are so nutrient-dense that they can truly supercharge your energy levels. Instead of picking and choosing just one, you can go for a superfood blend of greens that will elevate your energy levels and keep your immune system in perfect shape. These greens are perfect for boosting energy and staying resilient. They're packed with antioxidants for reducing body-wide inflammation and with various essential vitamins.
Soothing menopause-related fatigue
Different stages of your life provide your body and mind with different energy levels. For older adults, like women in menopause, fatigue, exhaustion, sleep issues, and the like are common side-effects of this natural process and the accompanying hormonal changes. To help your body restore its natural hormonal balance by reinforcing your gut health, you can get menopause supplements online and enrich your diet with gut-friendly probiotics that will elevate your energy. Probiotics are key in gut health, and your microbiome is responsible for your immune function as well as energy. Consuming these supplements during menopause can help you stay strong, healthy, and energized with ease.
Vitamins for energy
You already know how stress can wreak havoc on your energy levels and motivation to stay active. Stress pushes your body to produce more of the stress hormone, cortisol. This affects your daily levels of zeal and vitality.
Fortunately, there are specific supplements that help your body fight excess cortisol and provide you with energy-boosting amino acids such as L-Tyrosine that are pivotal for your health. These vitamins are much better for you than just a cup of coffee! This amino acid is exceptionally potent for boosting mental and physical productivity, performance, and focus under stress, giving you that added boost to stay active and banish stress.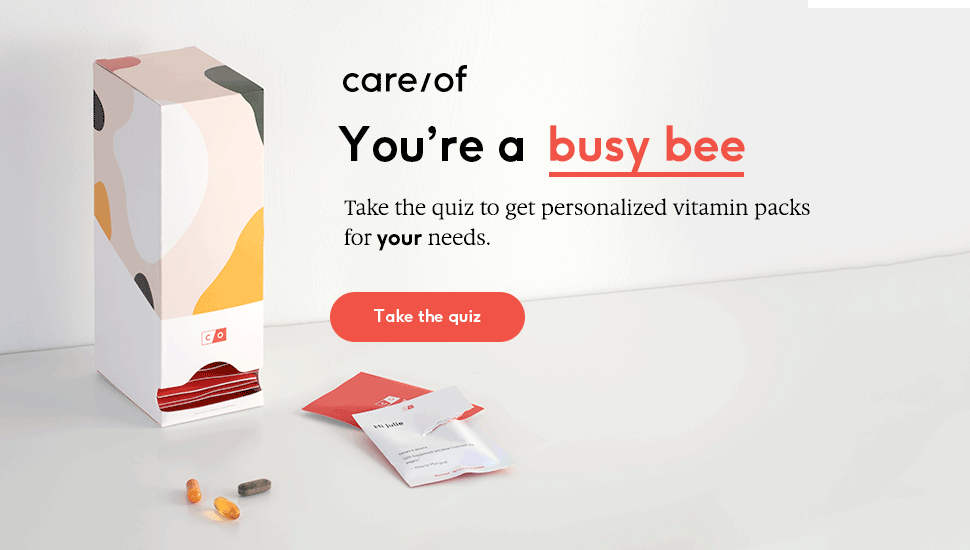 B stands for beauty (and resilience)
Different B vitamins have different roles in our bodies. The commonly known is vitamin b12, but there are eight in total. We often don't realize that we're not eating enough of these vitamins in our diet alone. They are key in the health of our hair, skin, and nails (hence the beauty portion of the title), but they are also vital for the functioning of our central nervous system, and an abundance of metabolic processes. To allow your body to produce more energy, you can use a B-complex supplement to provide your body with all the finest forms of these vitamins you need. Over time, you'll see an improvement in your appetite and energy levels. And, you'll actively contribute to your cardiovascular health as well as muscle tone.
You can get 50% off your first order with code VITAMIN50 over at Care/of 🙂
Vitamin D for more sun in your days
Research suggests that 40% of Americans alone are deficient in this vitamin, while the situation can hardly be much better in the rest of the world. Without enough exposure to healthy sunlight, you can't produce enough vitamin D for your daily needs. Food sources are another option, but the bioavailability differs from one food to the next. This mean your body might not be able to reap the rewards.
This is where top vitamin D supplements help the most, to allow you ample energy during cold and dark winters. A lack of this vitamin often leads to feeling tired, drowsy, and sluggish. So if your doctor recommends it, it's a good way to keep your body resilient and energized.
Conclusion
Supplements can never replace your healthy diet, nor can they mitigate the impact of poor nutritional choices. So, if you stack up on supplements but don't drink enough water, chances are that you'll achieve exactly zero results. Build a healthy diet, and reinforce it with the right energy-boosting supplements, especially during these difficult times and seasonal changes. And you will enjoy more vitality and zeal than ever.
This article was written by a guest blogger – Peter Minkoff. Peter is a lifestyle writer at Trend Prive magazine. Follow Peter on Twitter for more tips.
b vitamins
,
b-complex
,
best energy pills 2020
,
best energy supplement 2020
,
best energy supplements for chronic fatigue
,
best energy supplements for fatigue
,
care/of
,
energy supplements for women
,
energy supplements that really work
,
hum nutrition
,
macrolife
,
prevenix
,
probiotic
,
superfoods
,
supergreens
,
supplements for afternoon energy
,
vitamin d
,
vitamins for energy and tiredness